One Stitch At A Time #3
March 11 @ 2:00 pm

-

3:30 pm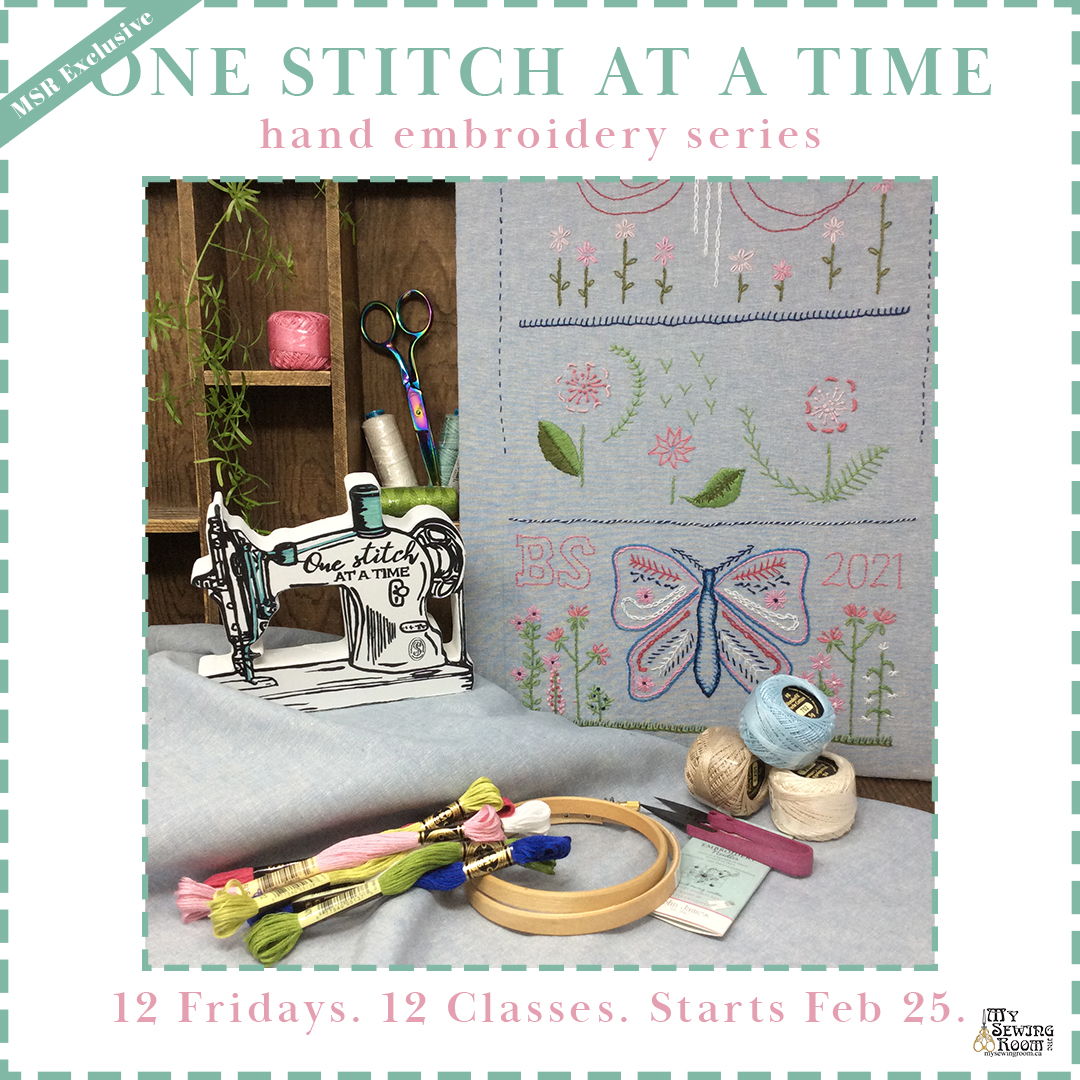 Pour a cup of tea, put your feet up and join our very own Barb as she introduces you to the gentle, relaxing art of Hand Embroidery. Learn the basic stitches of this time honoured art form; then apply this new knowledge to the embellishment of quilts, home decor, clothing and more in fresh and modern ways.
COST: $95
Visit the store or call us at 403-252-3711 to register.
SUPPLIES:
Required:
5 0r 6 inch embroidery hoop
12 – 10 inch squares of neutral fabric (like Kona) for practice
1 – fat quarter of solid colour fabric of your choice to create your sampler (Kona or Essex Linen)
1 package of assorted sized embroidery needles
10 skeins DMC embroidery floss. Your choice of colours but should include colours suitable for leaves and flowers.
Small thread snips; water or air erasable marking pen
Pattern for a sampler will be supplied.
Recommended:
Book of embroidery stitches such as "Embroidery Stitching Handy Pocket Guide" or any other book that contains well illustrated examples of stitches. ("Stitched Butterflies;)
Pigma marker; fusible fleece; different weights of thread such as Perle cotton, or Sue Spargo
Session 1: Supplies, technique and basic running stitch, (1 ½  hours)
How to use an embroidery hoop; the option of fusible fleece; cutting and pulling thread; 1,2,or more threads. Pattern tracing and marking; starting and stopping; running stitch.
Session 2: Back stitch; Stem stitch, split stitch (1 ½ hours)
Making lines; straight and curved
Session 3: Lazy daisy stitch, chain stitch, variations on Lazy daisy (circles, scattered)  (1 ½ hours)
Session 4: Blanket stitch, working with heavier thread. (1 ½ hours)
Session 5. Fern stitch (1 ½  hours)
Session 6: Feather stitch (1 ½  hours)
Session 7: Fly stitch. (1 ½  hours)
Session 8: French knots, Bullion stitch. (1 ½ hours)
Session 9: Satin stitch, Long and short, (1 ½  hours)
Session 10: Fishbone; stitching on wool felt(1 ½  hours)
Session 11: Woven or over stitched: Threaded, whipped stitches, couching. ( 1 ½ hours)
Session 12: Blocking, washing and using your finished projects.